&nbsp
So you came here to take a look at the stuff I do, and, out of whatever reason, you would like to know something about me...

Let me please your curiosity... You can get the idea about my looks and my age from the photo (it's rather new) so I'll skip that! Since I know of myself, I have always been arround motorcycels - driving them, "redesigning" them to suit my taste etc. As every kid, I started with small ones, but as they weren't "powerfull" enough, I proceeded rather fast. On the photo you can see me with "Adrenalin Junky", the chopper I made out of Suzuki GSX after having an accident with it.

Unfortunately I had to sell him to fulfill my dream of having a Harley - but that's the bike you won't see until I add it some "personal touch"!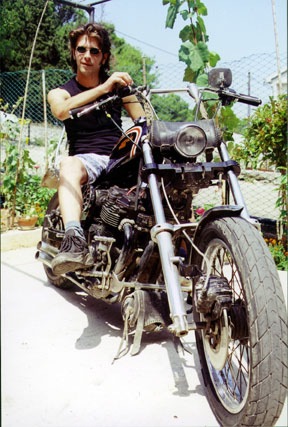 &nbsp

Another thing I like is drawing, and a beautifull day it was when I discovered airbrush! I finally had a chance to add more to my bike than just a different colour scheme! Of course I didn't stop on bikes - there came cars, helmets, snowboards, scateboards, and lately - mobile phones - that are quite a challange due to their size!

So? What are you waiting for? I'm inviting you to take a tour through my airbrush page!